New Products & Updates
Baby Rompers
Available Model and Sizes

Baby/Kids Pyjamas
Available Model and Sizes

Baby/Kids Dress
Available Model and Sizes

Baby/Kids Top + Bottom Set
Available Model and Sizes

Baby/Kids Leggings/Pants/Shorts/Bottom
Available Model and Sizes

Baby/Kids T-Shirt/Shirt/Polo/Top
Available Model and Sizes

Baby/Kids Jacket/Pullover/Cardigan/Sweater
Available Model and Sizes

Not Sure? Use our Clothes Finder
Baby/Kids Watches/Accesories
Available Products

Stationery
Available Products

Ladders
Available Ladders

Not Sure? Use our Ladder Finder
SmartHome/SafeHome/Electronics/Lights/Gadgets
Available Products

New BTO Services
Available Services

How to Buy?
You can do the following
Fill up delivery details
Add the items to cart
Check out
Choose payment method
Once payment done, our delivery personel will contact your shortly.You may see below for more information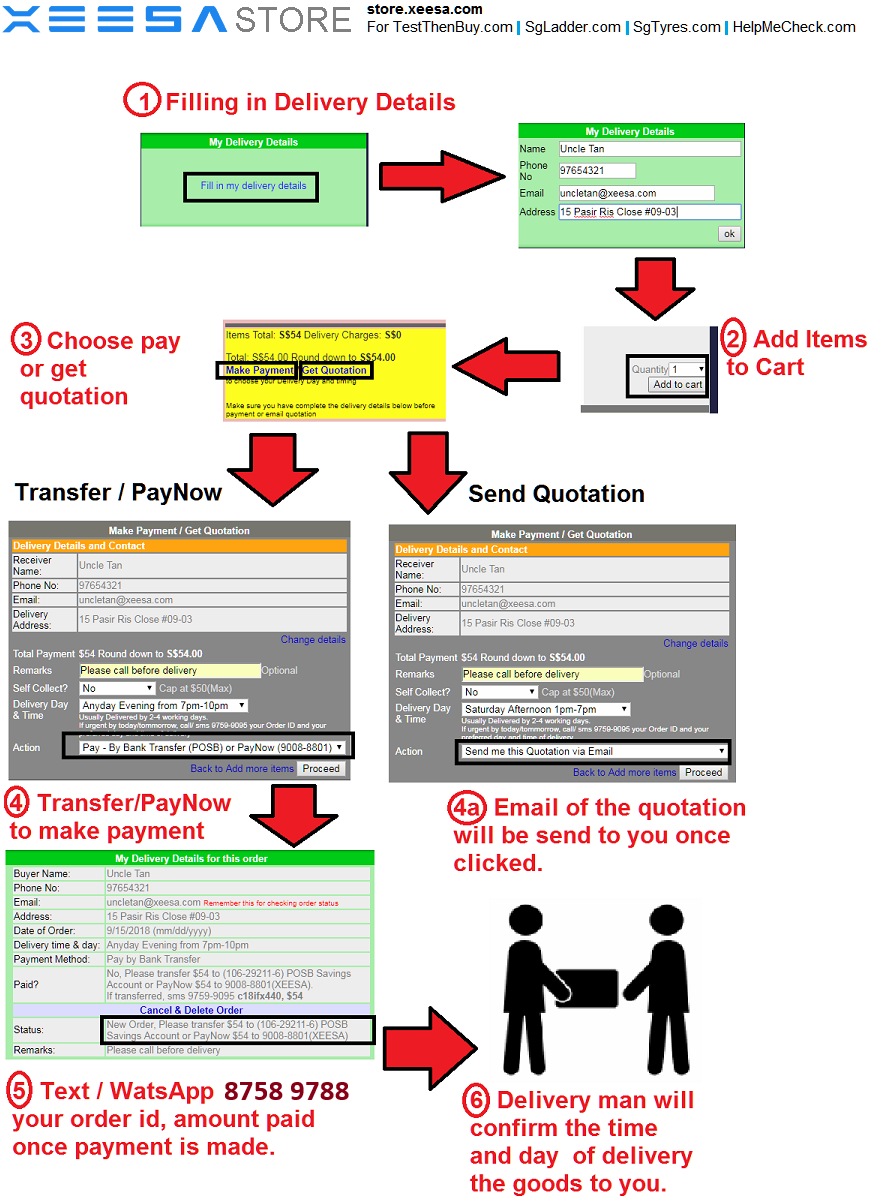 For sales more than $2000, it is required to make a downpayment of 50% of the sales amount via bank transfer(POSB/DBS) or PayNow to 9008-8801(Xeesa). The leftover amount will be paid via bank transfer(POSB/DBS) or PayNow to 9008-8801(Xeesa) within 7 days once the delivery is made.

Delivery Order Conditions
Online Order takes upto 3 working day to process. If your order is urgent, please call us directly for alternative arrangements. All Delivery will be made on Mon-Fri 6:30pm to 9:30pm, Sat-Sun 10am to 10pm.

Corporate Purchasing/Quotation
Purchasers from Corporations are welcome. You may add to cart via My shopping cart and check out by selecting action to Send me this quotation via email to get an official quotation emailed to you which suit to your corporate procedures. Additional and attractive Discounts are given to bulk purchase too.


About TestThenBuy.com?
TestThenBuy.com is a new way of shopping with accuracy, trust and confidence by combining an online store with a physical shop for customers to touch, feel the real product there before making any purchase.

Why Us?
There are some problems in the current retail
Too Expensive
Long Queue when buying
Size no stocks
Product in Package, unable to test or try
Salesman pressure to customers onsite to buy

THere are also some problems in Online Shopping
Worrying about Quality difference
Not able to test/view physically or feel
Seller/Dealer might be fake or out to scam buyers
Risk of bad quality once received

These problems may lead to some outcome
Quality of Life getting lower due to expensive price and living
Less time with friends and family due to more time needed to search around for the right product
Buying the wrong size due to no trying
Waste of money due to getting the wrong size
Wasted trip due to the particular size of product have no stock
Being scammed online due to fake seller
Dealer not contactable once after sales

These outcome and problems can be prevented from now on by shopping @ TestThenBuy.com as
Our products and reasonable priced with quality
Payment can be made online/transfer. No need to queue up to pay
Customer can do Self Collection and Testable for goods received
Customer will have more confidence and trust in shopping experience
We have a showroom to test almost every product we have listed in our portal
We will showcase almost every size of the products in our showroom which are listed in our portal
Our portal will indicate the stock quantity in our warehouse/store for every size
Customer will spend shorter time to find the right product due to the accuracy and product physical testing
Customer can save more money due to no wrong size bought wrongly
Customer achieving optimal quality of life as the amount of money in buying becomes affordable
Customer will not have any salesman pressure onsite as there will not be any sales person onsite to pressure them to buy

Seems that TestThenBuy.com is the new model in Retailing business between the current online shopping and the old brick and mortar shop model.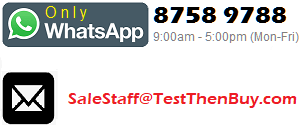 Where is TestThenBuy.com Showroom?
Showroom Location: 11 Sin Ming Rd #B3-09 Unit 7, Thomson V Two.
Map: View Google Map
Opening hours: 8am - 8pm Daily including Public Holidays.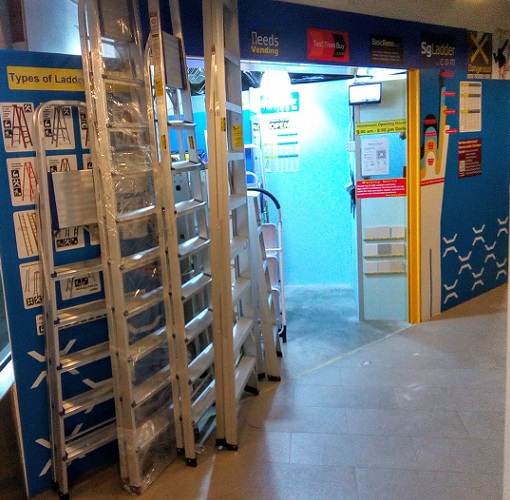 How to get there?
Bus : 52, 130, 162, 163, 165, 166, 167, 410, 855, 980
MRT Station : Marymount MRT Stn(Exit A. Walk 10mins along Marymount Rd and Shunfu Rd or you can take bus 410G)
Drive :
From West : PIE-> Lornie Rd -> Upp Thomson Rd -> Sin Ming Rd
From East : Bartley Rd -> Bradell Rd -> Upp Thomson Rd -> Sin Ming Rd
From South East : PIE -> Thomson Rd -> Upp Thomson Rd -> Sin Ming Rd
From South : CTE -> Braddell Rd -> Upp Thomson Rd -> Sin Ming Rd
From North : SLE -> Upp Thomson Rd -> Sin Ming Rd
From NorthEast : CTE -> Braddell Rd -> Upp Thomson Rd -> Sin Ming Rd
Basement Parking : Thomson V2 @ $1.50 per hour (Max Height: 2.1M). Grace Period Free Parking for 10 mins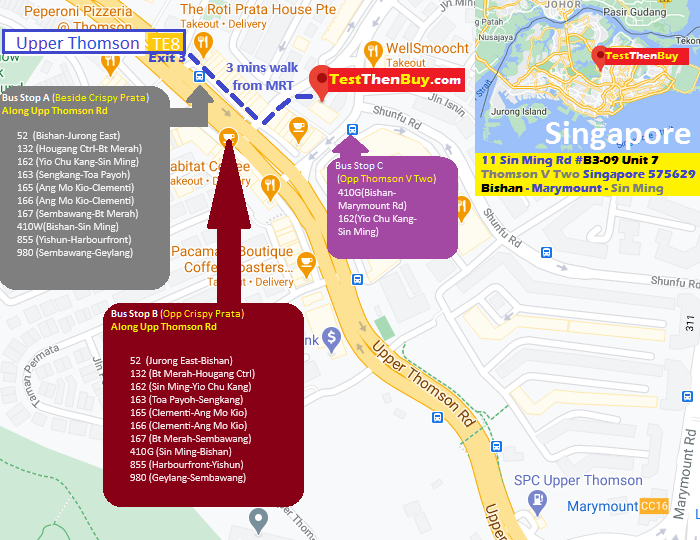 Other Links